I have installed Windows quite a few times over this past year, from setting up different operating systems on my home lab server and installing Microsoft's newest operating system, Windows 8.  You'd think that I would have spent hours downloading all the installers for Chrome, Flash, VLC, Notepad++, PuTTY, 7-Zip, and all the other common programs I use and having to click "Next" buttons a million times.  Well fortunately there's a better solution.  I came across Ninite a while ago, and it has saved me a ton of time installing the basic programs I use on Windows.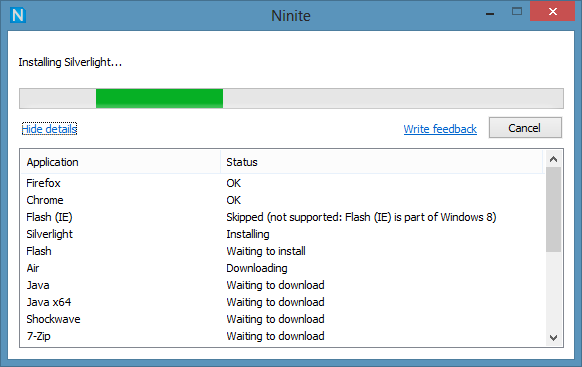 With Ninite, you just need to pick the programs you want from their website, then click Get Installer.  Once you run the installer, it goes off on its own downloading the programs, and installing them by itself.  It's also smart about not installing any extra junk (like toolbars or adware).
Nearly a hundred free programs are available to include in the installation, including browsers, instant messaging clients, media players, utilities, and even developer tools.
Ninite has been a great timesaver for getting the most basic programs onto a new Windows installation.