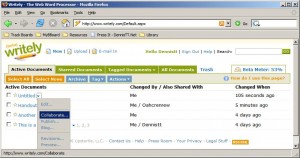 While I was reading some stuff on the internet about Web 2.0, I came across Writely – The Web Word Processor. "Simple & secure document collaboration and publishing."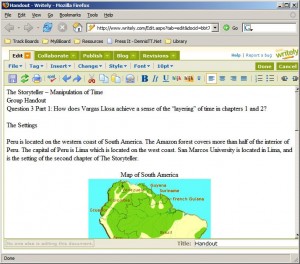 This is no ordinary word processor. It's not even a downloadable program. Writely is an online word processor that you can access from anywhere through any compatible web browser (IE 5.5+, Firefox 1.0.6+, Mozilla 1.4+) that has cookies and Javascript enabled.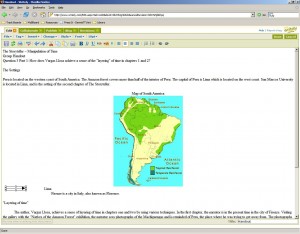 Although it is run on the web browser, the editor is WYSIWYG and can support the most common formatting (bold, italics, underline, lists, tables) and even includes a spell check. You can also upload an existing file (.doc, .txt, etc) or even email in an attachment to Writely to add it into your document list.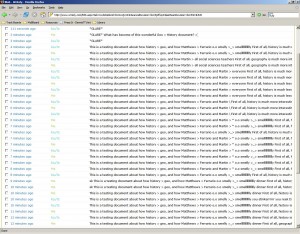 However, editing a document is not even half of what Writely does. The feature that I am personally interested in is the online collaboration feature. With Writely, you can add "collaborators" who can login and edit the same document even at the same time! For students, I think this feature would help with group projects that require collaboration: writing presentation scripts, having one central location for storing research from all the group members, etc. Writely saves all the revisions each time you edit, so that you can go back and see what has been edited at each revision.
After editing the document, Writely also offers many ways to export the document into common file formats such as .doc and .pdf (the .pdf export may become a premium-only feature after Writely goes out of beta). Additionally, you can also publish it into a webpage hosted by Writely, so that others that you give the link to can view the document. Another feature is publishing to a blog. The blogging feature only works with certain hosts/blogging software, and allows you to export your document directly to your blog.
To organize your documents on Writely, the system is much like Gmail. You can "star" documents, and also create "tags" for them (similar to the Stars and Labels of Gmail).
Although Writely is still in beta, the basic word processor that they have is very sophisticated. In time along with updates to the current generation of web browsers, I would assume that more features would be added and existing features tweaked, to this already wonderful service. I suggest that you register yourself a free account and see for yourself the features that Writely offers.