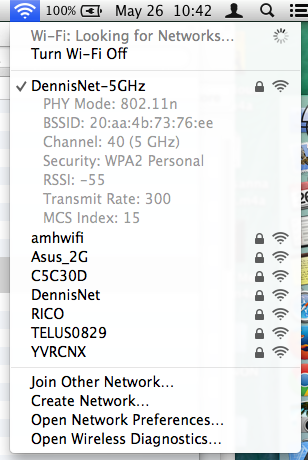 The option button can be used to reveal hidden options and information in various places around Mac OS.  One example of this is if you option-click the Wi-Fi icon in the menu bar, you will be presented with additional information about the network you are currently connected to, including the type of the Wi-Fi you're using, the base station's MAC address, the frequency channel you're on, and the strength of the connection, among other details.  In addition, there is an additional option to open Wireless Diagnostics which might be able to help you with Wi-Fi issues (however, in my experience it doesn't really give useful information).
Network Utility
An additional tool to help debug network connections is a neat little utility called "Network Utility" that comes bundled with Mac OS X.  You can find it in the Utilities subfolder in the Applications folder, or just use Spotlight to find it.
This utility provides a friendly interface for many tools that are commonly used on the command line for network debugging, such as ping, nslookup, traceroute, whois, and finger. An interesting tool though is the last tab: Port Scan.  Yes, Mac OS comes with a port scanner bundled with it.  Obviously one would hope that the port scanner be used for diagnostic purposes and not malicious purposes.