The COVID-19 pandemic has shifted the way many around the world live their lives over the recent months. For us in the Vancouver/British Columbia area, it has been about a month and half since we have had significant measures in place to reduce the spread of the virus.
In this post I will go over the changes that have affected me, and things that I have found worked well.
Personal timeline
Jan 28 – [B.C.] First presumed case in Metro Vancouver
Mar 9 – [B.C.] Looking back in retrospect, this week British Columbia sees a significant increase of locally transmitted COVID-19 cases
Mar 16 – [B.C.] Gatherings of more than 50 prohibited
Mar 16 – [Work] Move to full time work from home
Mar 16 – [Recreation] All local ski hills close for the season
Mar 20 – [Church] The Roman Catholic Archdiocese of Vancouver suspends Mass from being celebrated publicly.
Mar 20 – [B.C.] Dine-in food services prohibited
Bringing work home
I'm lucky that I work at a mobile games company (A Thinking Ape), where all of our work is already on our laptop. A virtual private network (VPN) connects us to our internal services. So in terms of bringing work home, that was relatively straightforward and easy for me.
In terms of team communication, we still use Slack as the primary form of text communication. One thing that surprised me, though, is Zoom came out as our choice for voice/video communication, not Slack, Skype or Google Meet, which I thought were far more popular. We have found that Zoom has reliable voice and video transmission, supports the number of participants we need (we have had a company-wide meeting up to 70 people), and productive tools such as screen sharing, remote control, screen annotation, recording workshops to archive.
To be honest, I'm enjoying working from home. The first few days were sort of awkward as it was so quiet, but I like the solitude which sometimes is difficult to find in an open-plan office. Also the 5 second commute from the bedroom to living room "office" can't be beat.
The home
Given that I am spending nearly double the time I usually do at home these days, some things needed to be changed to improve my environment.
The "office"
One of the common things people say when starting to work from home is to not work in the bedroom. Always dress as if you were physically going to work (need to for video conferencing meetings anyway).
I've been working on computers pretty much since elementary school, so I'm lucky that I've already had the proper workstations set up at home. My living room workstation has been dedicated as my "work" space, and my bedroom workstation for when I'm "off work". This separation of physical space helps in mentally differentiating when I'm "working" and "not working".
My living room workstation is actually a replica of my original workstation at A Thinking Ape, from desk, monitors, chair to keyboard and mouse. I found that the high quality equipment the company supplied to me at work was ergonomic and comfortable to work in for 8 hours a day, so I made my own copy at home. I won't go into details right now as it probably could be a post on its own.
Lighting
One issue that I've noticed in the past weeks is that I get distracted as the light from the windows increases or decreases due to clouds rolling by. Also, the soft white (2700k) bulbs that I had were too warm and not conducive of productivity. I had also tried some 6500k CFL bulbs I had on hand, but I found those too blue.
So just this past week, I went to Canadian Tire and bought a set of new LED daylight bulbs (5000k at 100W equivalent or 1600 lumens). Three are installed in the living room, and one in the bedroom.
Having the daylight bulbs in different fixtures meant that I could also turn on the daylight bulbs when doing "productive work" and then using the existing soft white bulbs for "off work".
After adding the new bulbs and tweaking the light positions and blinds to reduce glare on the screen, I was able to produce a consistent and productive brightness in my workspaces throughout the day, which I am finding makes a world of difference in concentration than before.
The kitchen
I used to eat out quite regularly especially on weekdays, which isn't a great habit. Now that I'm spending more time at home, and to minimize exposure to COVID-19, I've been cooking almost all my meals at home. In order to do this, I've had to "upgrade" some basic things like knives, in order to get things done more easily.
My current strategy is to bulk buy groceries to last a whole week. Then I will usually cook 2 large batches each week, and portion them out into microwavable containers. This is mostly to prep lunches so that I don't need to spend too much time stepping away from work to get lunch.
Recreation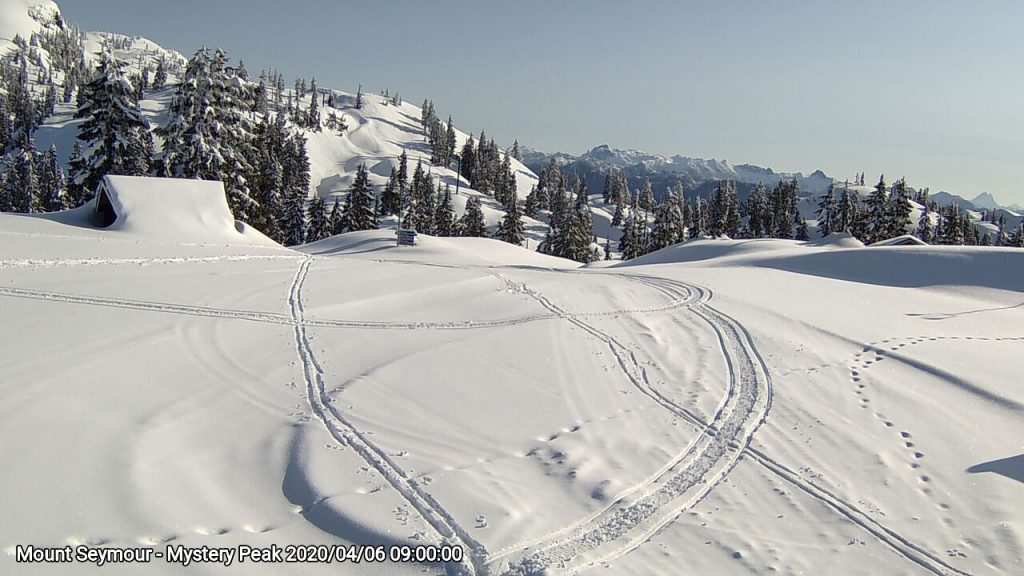 It was quite unfortunate that the ski hills had to close, despite decent snow coverage even up to now.

Since working from home, my exercise has been down significantly. Lately I've been trying to balance that by doing more walks and cycling. In the last couple of weeks, it has been especially tempting to be outside because of the beautiful weather.
Church
In mid-March when the provincial health order was issued prohibiting gatherings of more than 50 people, many parishes were ready to improvise and respond by limiting the number of people attending Mass, blocking off rows of pews to increase physical distance among parishioners, and even increasing the number of Masses celebrated per Sunday in order to accommodate the total number of parishioners.
However, soon after on March 20, in order to help reduce the spread of COVID-19, the archbishop declared that all Masses no longer be celebrated in public, and with that also the obligation of attending Sunday Mass was temporarily suspended.
For clarity, church isn't banned. Church isn't stopping. In fact, a new hashtag has been popularized, #ChurchNeverStops.
Although Masses are no longer celebrated with a public congregation during this time, priests are still offering Mass on their own, and in many cases live-streamed to an online audience. This is nothing new as televised and streamed Masses have been a regular thing in the past, but due to the pandemic, live streams are being used to keep parishioners connected. Of course, live-streamed Masses do not replace being present at Mass to receive Holy Communion, but it's the best we can do at this time.
Some interesting improvisations have been made for the other services and celebrations. Some parishes have set up drive in chapels and drive through confessions. Faith studies and other activities have been moved online to video conferencing platforms like Zoom or Google Meet.
Many churches are still open for individual prayer during the day. Church is definitely not stopping, but some creativity is required to stay spiritually connected and strong through these times.
Looking forward
Looking at the modelling provided by the provincial government, it seems we are on the downtrend for COVID-19 here in B.C. Compared to other regions of the country and world, we have fared quite well so far. This is likely not the end though, as it is possible for a second or more resurgences of the coronavirus.
These are definitely interesting times. COVID-19 has changed the way we currently live our lives, not just locally but around the world. It bringing us through uncharted waters as many of us have not experienced a pandemic of this scale. I think it is a good challenge though, to be able to be resilient as individuals, local communities and world wide.