I've had my Synology Diskstation ds415+ network attached storage device since late 2015, replacing my custom FreeNAS box. It came with 2GB of RAM, which is fine for basic file serving, but limited when running multiple applications, including Docker containers. Once applications start swapping onto the hard disks, everything starts grinding to a halt. I finally reached the breaking point on this last night when I had to reboot the NAS once more.
So I went out to grab a stick of RAM from my local computer parts shop. I chose the G.Skill RipJaws 8GB DDR3L-1600 SODIMM (CL9). Nothing particular with this model, but just posting for reference for others in case others are looking for working options.
Note that the RAM upgrade voids the unit's warranty. For me, it's been years since I've bought the unit so the warranty has already expired, so I wasn't worried about this.
Since this model is pretty old by now, there are various resources in showing the disassembly and upgrade process. I followed this tutorial from Charles Hooper. However, there is one point which requires further explanation: on the step of removing the main case, do not pry open the case from the seam between the two sides of the case. The case actually is actually held closed by the metal bar and two tabs on the opposite side of the case from the LEDs. Dave from the EEV Blog shows this process a lot better in his recent video. That step of opening the case is the most difficult part of the upgrade process 😂.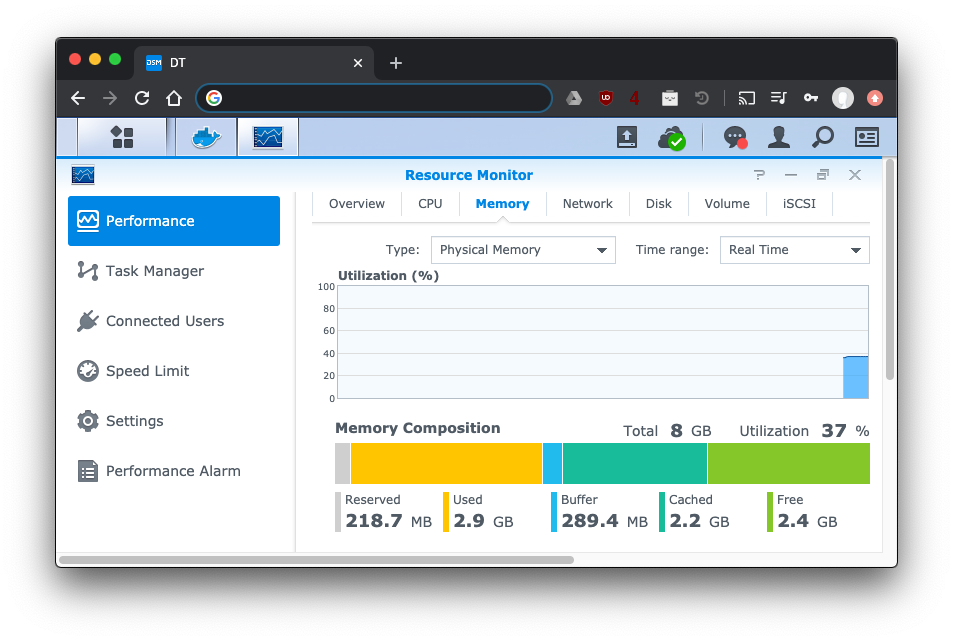 The memory was successfully recognized after the upgrade, and now my NAS has a bit more breathing room for applications. My ds415+ has served well for the past almost-5 years, and I think with this upgrade, it will be a lot more useful for many more years* to come.
* Well there is one caveat with this particular model: the Intel Atom C2538 processor, a variant of the C2000 series, has a known potential degradation in the hardware that causes the system to no longer boot. Luckily I have not come across this yet, but some people have figured out that soldering a resistor fixes this issue. Dave from EEV Blog describes a little bit of the electronics context behind this issue (at least to the extent that's inferable, as there's not much publicly known about the actual issue) and the fix.