I've been wanting to build a new PC for a while. My current PC was originally built back in 2012, and upgraded in 2018. There's still a lot of life left in this PC, so it will definitely be repurposed. However, for desktop use, it has fallen short in being unable to run a few modern applications (ok, also games) that I've been interested in, namely: DaVinci Resolve, the 2020 version of Microsoft Flight Simulator, and Call of Duty: Warzone.
Spending a lot more time at home due to the pandemic also drove my decision to upgrade the PC. But everyone else also has had the same idea over the past year, so demand was (and still continues to be) crazy high, and supply super low. I couldn't be too picky about the parts.
I wanted to build something based on the AMD Ryzen 5 3600. For the most part, AMD still has the edge on better price to performance ratio, although with the current economic state of supply chain issues and shortages, that could be somewhat varied. One tradeoff though is that the AM4 socket is nearing the end of its lifecycle, which means significant future upgrades may be limited. On the GPU side of things, I was looking at the Nvidia GeForce GTX 1660 series. Both of my CPU and GPU choices are popular mid-range options that are last year's generation, which means the prices shouldn't be as high as the latest/upcoming generation freshly released.
Over the past month (from Black Friday through Boxing day deals), I managed to get the following components:
I don't think anything in particular was significantly discounted at this time, however the name of the game was snagging the items before they went out of stock.
And here's a comparison of the new CPU compared to my current PC's past and current processors: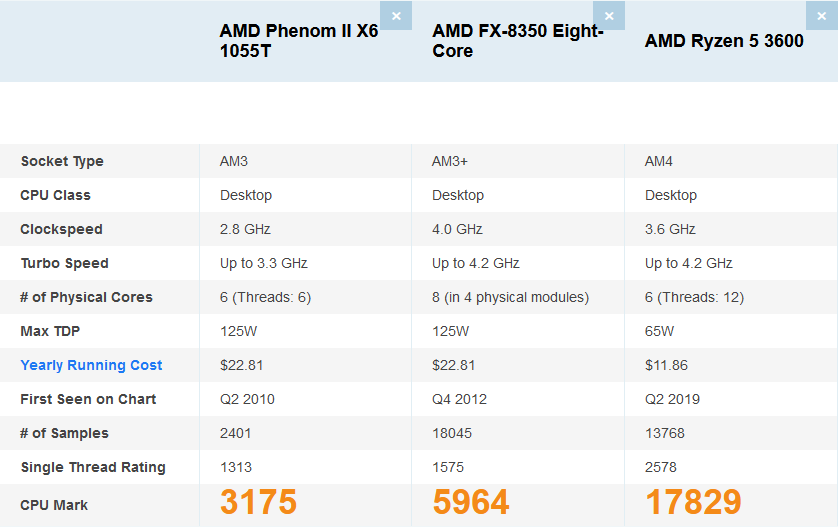 So far, I'm really happy with the build. It performs well for all the productive as well as entertainment purposes I had planned. I feel it's going to be a great PC for the next few years, at least.