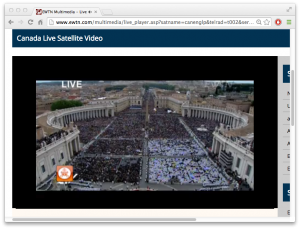 Yesterday, Popes John Paul II and John XXIII were declared saints in a canonization mass attended by over 800,000 people in St. Peter's Square.  For the rest of us who weren't able to make it in person to Rome, the event was live-streamed and now available to watch on YouTube!
Here in Vancouver, the archdiocese held a Mass to celebrate this event with about 10,000 attendees in Pacific Coliseum.
What makes a saint?
I couldn't really find a better way to summarize it so here are some quotations from Mark Hart's blog post on "What makes a saint":
…the Church doesn't "make someone" a saint. The Church recognizes the holiness of certain individuals and honors some with the title of "saint." If you make it to heaven, you are a saint – whether or not the Church recognizes you as one publicly.

[God's] given us … the saints to offer a model of life and example of prayer.

Your sainthood doesn't begin when a council starts investigating your life. Your invitation to sainthood began at your Baptism. Your life – right now – is your RSVP.
In short, we should learn from the canonized saints, and strive to become a saint ourselves.